12 Jul

Top 5 Tips to Keep You on Track with Your Home Renovation

Top 5 Tips to Keep You on Track with Your Home Renovation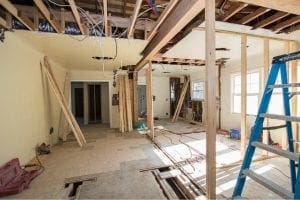 According to a report from the home improvement website Houzz, one out of ten homeowners go over budget when doing a home renovation. But don't let that statistic scare you away; here are five tips to help you stay on track with your home renovation.
Set Your Budget: do your homework before you dive into a home renovation. Know what your goals are. Do you want more room? Do you want to prepare the home for future resale? Before setting a budget, considering what is most important to you. Homeowners can save money by sticking to standard sizes when it comes to bathroom vanities, kitchen cabinets and appliances. If you don't need a custom look, you should consider the stock updates to save money.
What Can You DIY? While we know that it might be trendy to say the acronym DIY, not all of us are cut out for home improvement projects, even as simple as it may seem in the beginning. Not all DIY projects save money, in fact often times they end up costing the homeowner between ten and forty percent more! Your labor might be free, but your lack of knowledge, skill and the necessary tools to get the job done right could end up costing you more in the long run. Know your limitations when it comes to DIY home improvement projects.
Know What is the Best ROI: depending on the size, location and price range on your home, home improvement return on investment (ROI) could variety. If you are unsure of what projects you should do to improve the value of your home, it is a good idea to consult a professional, either a general contractor or a local real estate agent to find out the trends in your area. The most common home renovations projects that fetch the highest ROI include updated bathrooms, kitchens, upgraded attic insulation, garage doors, backyard patios, front doors and flooring.
Plan for the Unexpected: You never know what might be behind a wall or under old flooring. Unexpected costs during a home renovation can cause unnecessary stress and delay in the project. It's a good idea to have a backup selection when it comes to flooring, appliances and other materials, in the event your first choice is on back order or unavailable for some reason. Some experts recommend that homeowners plan for ten to twenty-five percent additional expense to cover any unexpected costs or changes that might arise during a home renovation. If you plan for the unexpected, it will reduce the stress if something should come up that you were not prepared to repair or pay for.
Know When to Hire an Expert: if you are not a skilled DIY'er it is a wise idea to consult a professional to get your home renovation done You should interview at least three qualified, experienced general contractors and ask for their bids in writing. Do your homework. Do they have insurance? How long have they been in construction? Ask for references and pictures of their work. That old saying, "you pay for what you get" is a good rule of thumb to keep in mind when planning a home renovation. The lowest bid might not be the best choice!
If you are considering a home renovation or would like to learn more about home improvement options, please give us a call. For more than forty years, Knipp Contracting has been helping homeowners like you maximize their home values, while creating a beautiful space that you can enjoy for years to come. Please feel free to visit us online at www.KnippContracting.com and look at our online portfolio. Our experienced team members are standing by, ready to assist you with your home renovation project. We look forward to hearing from you soon!
Knipp Contracting
info@knippcontracting.com
623-561-0803
www.KnippContracting.com