04 Oct

Behr® Paint Announces the 2018 Color of the Year

Behr® Paint Announces the 2018 Color of the Year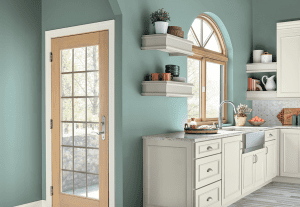 Last week Behr® Paint announced the 2018 color of the year – a shade they are calling In The Moment. This gorgeous color cool, tranquil and inspired by nature. The spruce blue paint is a soothing combination of blue, gray and green.
Let's face it, we all live busy lives and this paint has been designed to create a sanctuary where you can relax, recharge and be "in the moment." The Behr® Paint color of the year is versatile and can be used both inside and outside your home. Additionally, In The Moment works with a variety of design styles, including traditional, modern, coastal and global décor.
If your home needs a fresh look, the 2018 Behr® Paint Color of the Year might be the perfect solution! If you are considering a home renovation or would like to learn more about home improvement options, please give us a call. For more than forty years, Knipp Contracting has been helping homeowners like you maximize their home values, while creating a beautiful space that you can enjoy for years to come.
Please feel free to visit us online at www.KnippContracting.com and look at our online portfolio. Our experienced team members are standing by, ready to assist you with your home renovation project. We look forward to hearing from you soon!
Knipp Contracting
info@knippcontracting.com
623-561-0803
www.KnippContracting.com