08 Nov

6 Bathroom Remodel Tips

6 Bathroom Remodel Tips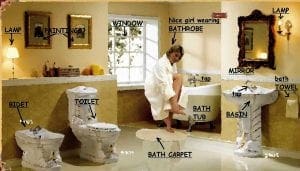 Considering a bathroom remodel? Before you dive in, here are 6 bathroom remodel tips to consider.
Set a Realistic Budget: before you begin any home projects, including a bathroom remodel it is important that you start with a budget. You will want to determine what you can do yourself, and what should be left to a professional. A quick trip to a local home store will help you to browse through your options for flooring, hardware, toilets, vanities, showers, etc. Be realistic when calculating costs, it is better to be under budget than thousands of dollars over of unexpected expenses.
The Truth About Toilets: any good bathroom designer will tell you, their best tip has to do with the toilet. Don't make the toilet your bathroom's focal point! And by installing a new toilet yourself, you can cut down on remodeling expenses. It takes less than an hour for a homeowner to replace a toilet!
Know Your Space: the last thing you want to do in your bathroom remodel is purchase items that don't fit. Knowing a few important measurements like how much space is required for a toilet, or the standard bathtub size will help savee time, money and frustration.
Sink and Vanity Tips: over the years, sink heights have changed and depending on who is using the bathroom will help you determine the right size. Typically, vanity counters are 32 to 34 inches off the floor, but you will want to also consider what type of vanity you are installing. Vanities aren't just for looks in your bathroom, getting one too big or too small could throw off your bathroom remodel. Lastly, if you need more space in your bathroom, consider a corner sink/vanity!
Spurge on Something Worth it: splurging on a few high-end materials or finishes in your bathroom remodel can make for a good investment, while creating a luxurious look and feel. You might find that opting for a better counter top material, or flooring will fall within your budget and give you a good return on investment.
Good Ventilation: model and mildew can be a real issue in a bathroom, especially smaller spaces with poor ventilation. If possible, a window and a good fan that vents to the outside (not the attic) is your best option to reduce the moisture in your bathroom.
If you are ready to remodel your bathroom but not sure where to start, we can help! For more than forty years, Knipp Contracting has been helping homeowners like you maximize their property values, while creating a beautiful space that you can enjoy for years to come. Our experienced team members are standing by, ready to assist you today. We look forward to hearing from you soon!
Knipp Contracting
info@knippcontracting.com
623-561-0803
www.KnippContracting.com