31 Jan

Does Your Home Need a Fresh Look? Consider a Home Renovation Loan

Does Your Home Need a Fresh Look? Consider a Home Renovation Loan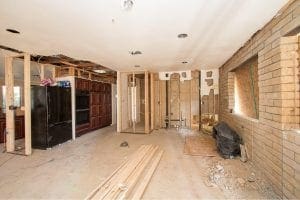 Not every home buyer, or homeowner is aware of two home renovation loan options available – one is offered through FHA and the other through Fannie Mae. A home renovation loan allows a consumer to finance or refinance a "fixer upper home" and renovate it by incorporating the home repair costs into the loan amount.
The home renovation money can be used to update or repair kitchens, including appliances, bathrooms, flooring, interior and exterior paint, landscaping, roofing and more (you should consult a qualified home renovation loan expert for specific loan guide lines in your state).
Unlike a credit line or home equity loan, the borrower will be required to prove that the money was used for the home renovation and that the work was done by a legitimate, home renovation certified contractor. There are some restrictions, and the borrower must qualify under the specific terms of the FHA or Fannie loan guidelines.
If you are dreaming of a new kitchen or updated bathrooms in your existing home, but don't have the funds in your bank account, you may want to consider a home renovation loan. If you are in the market to purchase a home, but fell in love with a fixer upper, a home renovation loan might be the perfect option to secure the property and give you the money necessary to do the renovation work.
Not all contractors are the same, and not all contractors are certified to do home renovations through the FHA 203K or Fannie Mae Homestyles programs. Knipp Contracting is the premier contractor of choice for homebuyers, homeowners and investors.
Please feel free to visit us online at www.KnippContracting.com and look at our online portfolio. Our experienced team members are standing by, and ready to assist you with your home renovation project.
Knipp Contracting
info@knippcontracting.com
623-561-0803
*This communication is provided to you for informational purposes only and should not be relied upon by you. Knipp Contracting is not a mortgage lender and so you should contact a certified FHA 203K or Fannie Mae Homestyles loan officer, or a mortgage company that offers home renovation loans, to learn more about its mortgage products and your eligibility for such products.