20 Oct

Knipp Contracting Giving Back: The Ronald McDonald House

Knipp Contracting Giving Back: The Ronald McDonald House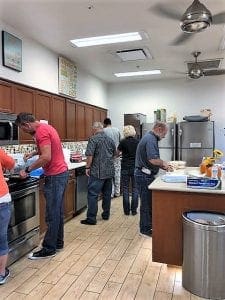 Last week the crew from Knipp Contracting gave back to the community in Phoenix, Arizona by volunteering at the Ronald McDonald House.
Since 1974, the Ronald McDonald House has provided vital resources and support for children and their families who are being treated at hospitals worldwide They have helped millions of families with sick children who need comfort and support during the most difficult times.
Volunteers make a huge difference in the lives of all the families, and can donate their time by cooking, hosting, listening, nurturing or just by being there to help out where ever needed. The crew at Knipp Contracting decided to give our time by preparing meals for those families. Volunteers who dedicated their time help to reduce the costs of operating RMHC, and allow them to direct more donations back to programs that support sick children and their families.
Want to get involved? Click here to learn how you can volunteer at RMHC too!
For more than forty years, Knipp Contracting has been helping homeowners and investors like you maximize their property values, while creating a beautiful space that you can enjoy for years to come. Our experienced team members are standing by, ready to assist you today. We look forward to hearing from you soon!
Knipp Contracting/Knipp Commercial
info@knippcontracting.com
623-561-0803
www.KnippContracting.com
www.KnippCommercial.com