23 Sep

Target Remodels Are Paying Off

Target Remodels Are Paying Off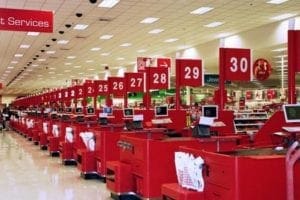 In 2017 Target announced a $7 billion investment in their stores and this week they opened the 100th small-front location and have finished remodeling 500 store locations across the U.S. Target's earnings have blown past analysts' predictions and sent Target shares into new highs. Sales at Target for stores open at least twelve months and online reported to be up 3.4 percent when other retailers are reporting a sales decline. Target traffic is up 2.4 percent and online sales were up 3.4 percent. Target shares, valued at $53.8 billion, which is up more than 55 percent this year.
The plan included building pint-sized locations in major metro areas such as New York and around college campuses like the University of North Carolina at Chapel Hill. The updated locations now feature larger-format shops with updated lighting, new flooring and refreshed grocery spaces.
"We think the differentiator is going to be what the in-store experience is like," Chief Operating Officer John Mulligan said in an interview. "Even today somewhere around 90% of retail is still done in stores. The store isn't going away."
Target plans to open thirty more smaller store locations each year, and there is plenty of room for growth in New York, LA and Chicago. They expect to complete an additional 300 remodels by 2020 which will keep them on track to update at least 1,000 locations out of more than 1,800 stores that Target has across the U.S.
An interesting fact is that shoppers prefer to shop around the construction, and because Target has offered discounts during the construction/remodel period their sales are up two to four percent per store. The smaller-format shops can range in size from 15,000 to 40,000 square feet- but Mulligan said that Target is learning how to better curate merchandise that is specific to each location. He said, "We're localizing more." Target has also reported that the pint-sized buildings are twice as productive as the larger locations.
Analysts say that Target is appealing more to consumers today because it serves as a reputable "one-stop-shop" for all needs, such as cleaning supplies, makeup, food, clothing, toys, electronics and so much more. The success of Target can be contributed to the fast that they sell necessities and not discretionary goods.
To read the full report about Targets growth, please click here.
For more than forty years, the Knipp name has been helping investors with their real estate development needs. We invite you to visit us online at www.KnippContracting.com to view our portfolio.
Whether you are looking to renovate your existing commercial building or break ground on a new commercial real estate project, our team of experienced experts are ready to help you with all your construction and real estate development needs. We look forward to hearing from you soon!
Knipp Contracting/Knipp Commercial
info@knippcontracting.com
623-561-0803
www.KnippContracting.com