20 Sep

Hot Bathroom Trends for 2018

Hot Bathroom Trends for 2018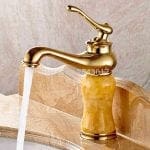 The new year is right around the corner, and if you are planning a bathroom renovation you need to read on! Here are a few of the hot bathroom trends for 2018.
The return of brass fixtures: chrome fixtures are still a popular choice but if you want the edge on the hottest fixture trend, you need to go with brass as your selection. Another up and coming trend is rose gold for bathroom fixtures.
Color, color and more color! The hottest bathroom trend by far bar is color – everything from cabinets, fixtures and sinks. While blue is the top choice, you can have a lot of fun expressing yourself with this hot color trend!
Move over granite because quartz is stealing the show: granite is so nineties! Quartz is durable, and has gorgeous finish options that are fresh and trendy.
Porcelain vs Stone: the hottest trend for bathroom sinks is definitely hand-carved stone, however porcelain is still a safe choice if you are preparing for a bathroom renovation.
Tile patterns: subway tile is out, and it's been replaced with texture, color, patterns and unique designs.
White cabinets are out: finally the white cabinet trend is fading, and has been replaced with two-tone cabinets or a new bleached option.
If you are considering a home renovation or would like to learn more about home improvement options, please give us a call. For more than forty years, Knipp Contracting has been helping homeowners like you maximize their home values, while creating a beautiful space that you can enjoy for years to come.
Please feel free to visit us online at www.KnippContracting.com and look at our online portfolio. Our experienced team members are standing by, ready to assist you with your home renovation project. We look forward to hearing from you soon!
Knipp Contracting
info@knippcontracting.com
623-561-0803
www.KnippContracting.com